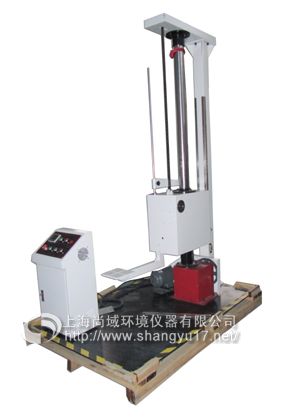 The drop test machine is used to test the degree of damage to the product when it is dropped from different heights. It can be used to test large-sized packages. It can test the product's face, corners and edges in multiple directions. It can accurately detect the different products. For the degree of damage at the height, the control device has a certain position away from the test platform and the drop. The open structure design of the fork drop test machine is unlimited in height and width, which can carry out the drop test of large-size packages and make the test range wider.

The drop test machine can perform free drop test on the surface, angle and edge of the package. It is equipped with a digital display height indicator and uses a decoder to track the height, so that it can accurately give the product drop height. It uses a single arm double column structure , Electric control lifting device: easy to use, the buffer device ensures that the swing arm is in place smoothly during the experiment, reducing the failure rate and personnel injury rate. In a short period of time, multiple drop tests can be carried out continuously, saving test time and improving work efficiency. After the test is completed, press the lower button to make the table work with the lowest position to turn off the power button.

This product has a reasonable structure design. While ensuring its function, it is visually beautiful, ergonomically designed, and the equipment is easy and safe to operate. The drop test machine is a good choice for testing the damage of the product such as falling and falling.

Keep invoices, packing lists and shipping orders protected and securely attached to boxes and other containers throughout the shipping process

Crafted from oil- and water-resistant polyethylene with a high-tack rubber resin adhesive, our packing list envelopes are built to withstand some of the toughest handling conditions.

Available with or without printing in a variety of sizes to match your individual shipping needs. To keep shipping labels safe and secure, we also offer both clear and high visibility label protection tapes.

printed/unprinted, clear/white, side-loaded /top loading polyethylene envelope with easy and secure open and close. We designed this envelope with a high-tack rubber resin adhesive that sticks on contact to packages. Oil- and water-resistant, this

Packing List Envelope

securely protects documents from damage throughout delivery.
side-loaded/ top-loaded envelope opens easily and closes securely
Provides control and protection of on-package packing list and invoice documents
Non-printed/printed design provides a clear window for logos, instructions or other information and is barcode readable
Offers convenient peel-and-stick document attachment
Features a polyethylene backing, synthetic rubber adhesive and paper liner
Tough film helps reduce puncturing and tearing



Logistics Packaging,Packing List Envelope,Express Packaging, Courrier Packaging, Packing List Pouch, Packing list enclosed

AM-Besten Technology Ltd. , https://www.bestenpack.com